EURL AO/SRM Joint Workshop 2014 - presentations available
In 2014 the EURL-AO and the EURL-SRM have organized a Joint Workshop.
The workshop took place on 14 – 15 October 2014 in Freiburg, Germany at the premises of CVUA Freiburg.
All NRL-AOs and NRL-SRMs were expected to participate in the Joint Workshop.

Following the Joint Workshop two separate Trainings took place:
!!! Attention: EURL AO and SRM Training fully booked !!!
EURL AO Training at CVUA Freiburg from 15 – 16 October and

EURL SRM Training at CVUA Stuttgart in Fellbach (near Stuttgart) from 16 – 17 October.
Only a limited number of NRLs was invited to nominate Training participants. The number of participants in the EURL AO-Training was limited to 8 and in the EURL SRM-Training to 12.
Preliminary Schedule

(last update 16.07.2014)

:
Day/
Time

Monday
13 October

Tuesday
14 October

Wednesday
15 October

Thursday
16 October

Friday
17 October

9:00 - 13:00

Arrival

(Freiburg)

Workshop

(Freiburg)

Workshop

(Freiburg)

AO-Training (Freiburg)

SRM-Training (Fellbach)

SRM-Training (Fellbach)

13:00 - 14:00

Break for Lunch

Break for Lunch

Break for Lunch

Break for Lunch

14:00 - 17:30

Workshop

(Freiburg)

AO-Training

(Freiburg)

Travel to Fellbach
(by train)

AO-Training (Freiburg)

+ Way home
(~ 17:00)

SRM-Training (Fellbach)

SRM-Training (Fellbach)

+ Way home




(~ 13:00)

19:30

Get together

Workshop dinner

Training dinner
The workshop covered the following topics:
News from the Commission;

Results and discussion on EUPT-AO9 and EUPT-SRM9;

Underperformance in EUPTs

Method Development and Validation

SANCO AQC-Document

Exchange of general information
Documents
: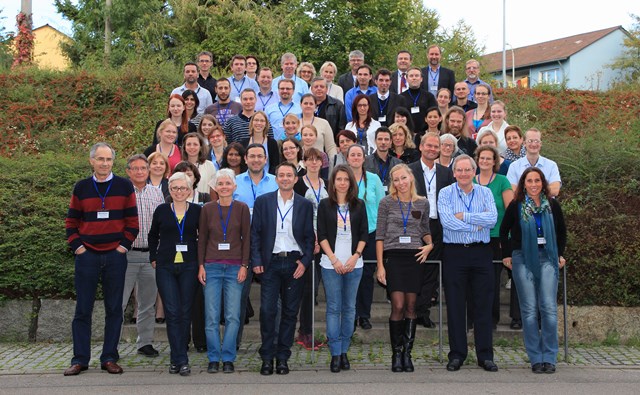 last update: 05.11.2014
Published 12-06-2014, 16:31:46
Top of Page