Documentation Available!!! 4th Joint Workshop of the European Union Reference Laboratories - 23rd - 25th October 2013
Almería -SPAIN
4th joint Workshop organised by the EURL-FV in collaboration with the EURL-CF -AO and -SRM.
The Workshop was held in Almeria, Spain, from the 23rd October to 25th October 2013.
The Workshop Venue was at the Palacio de Congresos Cabo de Gata-Almería.
If there are any further questions, don´t hesitate to contact us: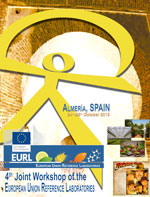 IF YOU WANT TO DOWNLOAD A PRESENTATION, CLICK ON IT!!!
ALL THE POSTERS SHOWN IN OUR JOINT WORKSHOP CAN BE DOWNLOADED CLICKING HERE!!
Published 05-11-2013, 16:34:33
Top of Page