EURL-FV Accreditation
The EURL-FV has been accredited by ENAC in February 2014.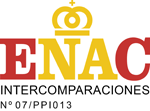 ENAC: (Entidad Nacional de Acreditación) is the body designated by the Spanish Government to assess technical competence in accordance with international standards.

ENAC has been appointed as the Spanish National Accreditation Body by virtue of the Royal Decree 1715/2010, endowed of public authority to award accreditations, in accordance with the established in the Regulation (CE) n.º765/2008 of the European Parliament and the Council, of 9 July 2008.

ENAC attests that the provider of proficiency testing schemes
"EUROPEAN UNION REFERENCE LABORATORY FOR PESTICIDE RESIDUES IN FRUITS AND VEGETABLES in the UNIVERSITY OF ALMERIA"
is competent under the the terms of UNE-EN ISO/IEC 17043:2010 to carry out proficiency testing/interlaboratory comparisons in the following fields:
Determination of pesticide residues included in the Annex I of the document "Commission Implementing Regulation (EU) No 788/2012 of 31 August 2012" in fruit and vegetable commodities.
Published 04-04-2014, 15:53:33
Top of Page