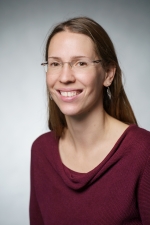 Salutation: Ms.
Surname: Zechmann
Name: Silvia
Nationality: German
Profession: food chemist
Education:
Gymnasium in Heilbronn (Germany),
study of food chemistry (Karlsruher Institut für Technologie, KIT),
Practical Year and State Examination for Food Chemists at the CVUA Stuttgart.
Professional experience:
2014 - present: scientific expert at the Pesticide Residue Laboratory of CVUA Stuttgart.
Tasks in our lab:
responsibility for LC-MS/MS,
judicial and toxicological evaluation of analytical results,
judicial evaluation of mislabeling and misleading descriptions (i.e. organically grown food),
organization and coordination of sampling.
Top of Page