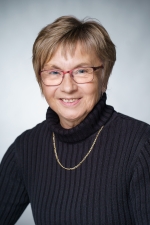 Salutation: Ms.
Surname: Illg
Name: Bärbel
Nationality: German
Profession: chemical technical assistant
Education:
Secondary school in Stuttgart (Germany),
advanced technical college entrance qualification at the vocational training colleque Dr. Karl Binder in Stuttgart (Germany),
chemical technical assistant education at Dr. Karl Binder School in Stuttgart (Germany).
Professional experience:
1981 - present: chemical technical assistant at CVUA Stuttgart at,
- Blood Alkohol Laboratory,
- Heavy Metal Laboratory,
- Milk Laboratory,
- Diet Laboratory / Microbiology Laboratory,
- Pesticide Residue Laboratory.
Tasks in our lab:
sample preparation (extraction an clean up) with QuEChERS.
Top of Page