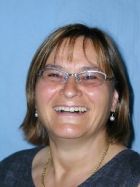 Salutation: Dr.
Surname: Kaufmann-Horlacher
Name: Ingrid
Nationality: German
Profession: food chemist
Education:
industrial training as an industrial clerk,
Gymnasium in Stuttgart (Germany),
Studies in food chemistry (University of Stuttgart),
Practical Year and State Examination for Food Chemists at the CVUA Stuttgart,
PhD thesis at the University of Hohenheim (Supervisor: Prof. Dr. W. Kraus); Topic: "New Tetranortriterpenoids from Melia toosendan Sieb. et Zucc. with antifeeding activity".
Professional experience:
1990 - 1996: scientific expert at CVUA Stuttgart, laboratory for blood alcohol analysis,
2002 - 2012: scientific expert at CVUA Stuttgart, laboratory of cocoa, chocolate, sweets, icecream and for food allergen analysis,
2009 - 2012: scientific expert at CVUA Stuttgart, laboratory of food supplements and novel food,
2012 - present: scientific expert at the Pesticide Residues Laboratory of CVUA Stuttgart.
Participation in (inter)national bodies:
national expert group for "Federal Control Plan" of Federal States and Federal Office of Consumer Protection and Food Safety (BVL),
Working Group "Novel Food" of Competent Authority Food Assessment Body based on Reg. (EC) 258/97(CAFAB).
Tasks in our lab:
judicial and toxicological evaluation of analytical results,
judicial evaluation of mislabeling and misleading descriptions (i.e. organically grown food),
organization and coordination of sampling,
ACD-Lab, Spectra database,
Responsibility for GCxGC-TOF-MS and LC-MS/MS.
Top of Page