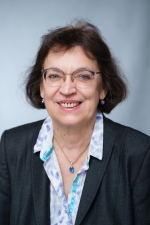 Salutation: Ms.
Surname: Scherbaum
Name: Ellen
Nationality: German
Profession: food chemist
Education:
Gymnasium in Vaihingen/Enz (Germany),
study of food chemistry (University of Stuttgart),
Practical Year and State Examination for Food Chemists at Chemische Landesuntersuchungsanstalt Stuttgart.
Professional experience:
1985 - 1990: scientific expert at the Laboratory of Eggs and Egg Products, Laboratory of Fish and Fish Products, Laboratory of Ready-to-Serve Meals at CVUA Stuttgart;
1990 - present: scientific expert at the Pesticides Residue Laboratory of CVUA Stuttgart,
2001 - present: head of department Residues and Contaminants at the CVUA Stuttgart.
Participation in (inter)national bodies:
2002: participation as national expert in the inspection of the Food and Veterinary Office (FVO) in Italy.
Tasks in our lab:
judicial and toxicological evaluation of analytical results,
responsibility for LC-MS/MS, GC-MS, GC-ECD, GC-Orbitrap, LC-ToF,
processing of pesticide residue data and reporting,
EURL financial director
Top of Page